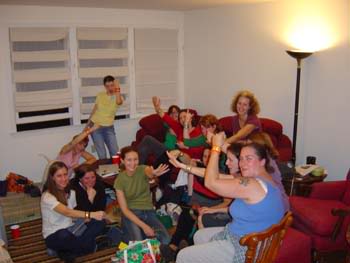 March 2006: Start your own craft circle!
Getting together with crafty friends to hang out and work on your sewing, screenprinting, knitting, or crochet is so much fun! I talked to Kelly, Betsy, and Fiona about their amazing Tuesday night knitting group, which has been going strong every week for three years now—they even plan crafty vacations together. I added some tips for starting your own craft circle, no matter where you live.
How did your craft group get started?
Betsy: In the fall of 2002, I had moved back to Chapel Hill, and was annoyed that I only saw my girlfriends at shows or bars, where we couldn't really talk. When I was living in NYC a year earlier, I had attended a few knitting circles where I was stoked to have conversations with women at a place where we didn't have to yell or anything. I sent out an email to my girlfriends (some of whom I knew from getcrafty!) who I thought might want to get together and craft, telling them to send it to any interested parties. Happily, it grew organically, continuing on after I moved to London several months later.
Any advice for starting up a group?
Kelly: For me, Tuesdays are all about the good company (and good food), and the crafting and craft support are secondary. If knitting is the only thing your circle has in common, I can't imagine that will be very sustainable. I also think that having a regular and frequent time/day to meet is important to keep the group going, especially when not everyone can come every time. And good communication is important so everyone knows where to go and how to get there.
Betsy: Advicewise, I tell anyone who wants to start a knitting circle to first decide if they want to meet publicly or privately as a group. Then send an email to anyone and everyone you know locally about your group and ask them to pass it along to people they think might be interested or alternatively, you can post a note on a messageboard (like getcrafty!) and see if anyone there might be into it.
Fiona: Find somewhere everybody's comfortable meeting: people's houses, a coffee shop or a bar with a chill back room, etc. A mix of those works for us, mostly houses but sometimes we go out. We went out to a restaurant this year on the RSVVP night (the local fundraiser for hunger relief), for example.
What is a typical meeting like?
Fiona: Refreshments are the first step! Usually, it's a mix of delicious homemade snacks and baked goods and treats people pick up from the grocery store or bakery. Sometimes we're all in sync and it turns into the ultimate chips and salsa spread or something, but usually there's good variety. We usually have wine and appropriate beverages for our pregnant ladies. There have been some incredible treats, like Nora's chocolate-chili cake and lavender cookies, and Mexican ice pops. We usually gather around the food and just hang out for a while at the beginning. A couple of times when everybody's been tired, we've actually sat at the table and never gotten up!
Then we usually sit down in the living area and work on projects. The whole thing is very low pressure, which works well with our group's personality, I think. We also love looking at other people's works in progress or finished projects. Sometimes they model!
People drift in and out according to their schedules. Some come from work or class, some have to leave early, some go out afterwards. Some people bring their babies/kids, and a lot of people carpool.

everyone models their knitting wristbands from Plain Mabel
Kelly: Typically we meet at someone's house (though occasionally we knit in public) around 7:30 every Tuesday night. The hostess doesn't have to provide anything but space, but usually she will have wine and make something delicious to eat. We have some really good cooks, and good taste in store-brought treats, so the food is always exciting.
Eventually we knit or crochet or hold babies or just gossip. We show off what we're working on or get help fixing something. We always have music playing. We hang out for a while, breaking up as early at 9 or as late as 11. Sometimes we get drunk, or at least tipsy. We can always guess who is pregnant by when they stop drinking wine and switch to fizzy water.
What are some of the most exciting or fun projects and tutorials people have done?
Kelly: I did a screen-printing workshop where a couple of people made paper stencils and we printed cards and some clothes. Barbara did a tapestry workshop where we used old upholstery fabric sample books to cut up and piece together quilted wall hangings. It was fun and people made some really neat pieces.
We also had a skirt-making day at Fiona's house. I have a cute cherry print skirt to show for it, and Monica made 2 skirts. Several of the women in our group have had babies, and we make our own individual presents—tiny hats and socks and toys.
Fiona: Amy once made us all laminated bookmark-type cards with her favorite sock pattern in multiple sizes. A lot of informal advising and tip passing goes on too. I think that's the best. We've also done swaps of craft supplies, not limited to knitting, and also clothes.
We had a Crochet or Die night at Ellen's house—she's our resident master crocheter. It was really awesome, and everybody left with a granny square or some new knowledge. And Julie and I took a felting class and want to teach that when it gets warmer.
What has helped the group stay so organized and run so smoothly?
Betsy: The fact that we got people together who loved the idea of meeting up and crafting is imperative. At our first meeting, I suggested we meet once every two weeks and the overwhelming vote was for once a week!
Kelly: As I mentioned before, the regular meeting day & time helps perpetuate the group. I started writing up an email newsletter/report about the evening's activities to talk about what everyone is working on, who brought delicious food, hot topics of conversation and links to patterns and other things. I've since handed that off to Rachel, my star reporter, and lately she's been doing picture collage e-mails.
The newsletter really helps us hang together as well, since it helps you feel in touch, even if you can't attend every week. Most of us are good friends, and the knitting group has helped cement those friendships and make sure we always have time to hang out, even when everyone is busy and has crazy schedules. The awesome food and wine is always something to look forward to, and since each person has her own specialty, that's another incentive to attend when you know the hostess will have some kind of great treat.
Fiona: We try to meet always, so as not to get sidetracked. This was especially true in the beginning, but we did skip Valentine's Day this year.
What are some cool things you have planned for the future?
Kelly: I claim to be working on a knitting cookbook, but that's really an excuse to make everyone give me their secret recipes. We don't have a knitting retreat planned yet for 2006, but we went to the beach last fall, and have been to Asheville, the Outer Banks, and Topsail Island in the past for lost knitting weekends. We've set our sights on Portland since one of our members relocated there, but nothing has been formally proposed.
Fiona: We do retreats at the beach and in the mountains. Those are so motivating and we get a lot done! There is also major food and drink action involved (we divide up meals and everybody brings a bottle of wine or 2) and sometimes we even watch After-School Specials on DVD. We definitely want to do more of these!
Anything else you'd like to add?
Kelly: I think everyone should grab their best friends and learn to knit! The best thing about our group is the support and encouragement we give each other. I finally tried making socks after seeing other women in my group make them, and I don't think I would have had the nerve to try without their example. I also love hearing about people's everyday lives—how they deal with things at work, at home, deciding to have kids or get married. My group makes me feel like part of a community of strong women, and I can't imagine life without it.
More tips for starting your own group:
•Join an existing SnB group or your local Church of Craft chapter. If they're not as active as you'd like, or you're hoping to do a broader range of crafty stuff, you can see if anyone there wants to get together as a spin-off in addition to the official meetings.
•Post on getcrafty's craft-up forum, craftster.org, your city's craigslist.org artist boards, or other online communities asking who else is interested in getting together to craft! Or make flyers and put them up at cool shops, craft stores, and coffeehouses in your neighborhood.
•Pick a convenient day and time, like a weeknight or a Sunday afternoon, and place (on transit, or easy to find). If you meet at a bar or other public place, make sure there's enough light to successfully craft, and that it's not too crowded or smoky for your group.
•Don't get discouraged if it's slow at first! Everyone gets busy, but if you keep having meetings and spreading the word, more and more people will hear about it and probably start coming regularly, too. For example, the Tuesday night group has 35 members, but only about 8 or 10 of them come every week.
•Offer to teach a new craft to friends, or trade off tutorial ideas–it certainly doesn't have to be just knitting, or sewing, even if that's what most people you know do. You may end up having some new crafters join the group that way!
•Start an e-mail newsletter or yahoo group to plan your next meeting dates and times, so everyone knows when and where to meet in advance.
- – - – - – - – - – - – - – -
Susan Beal is looking forward to learning how to knit Continental style at her next craft night!