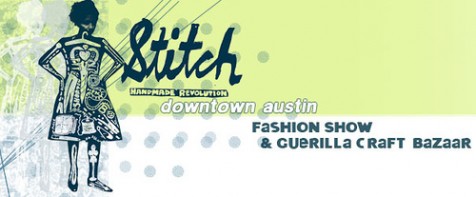 Crafty announcements round-up: Austin and Portland
So I just heard that applications went up for the November Stitch Austin show! Jennifer says, "Last year Stitch had over 3,000 people attend and we sold out the Austin Music Hall. This November 10th will be Stitch's 5-year anniversary and we are going to be there again — they have expanded so things are going to be even bigger and better. More make and take booths, awesome DJ's, a podcast hosted by Vickie Howell, an afterparty that is going to rock your face off, the Indie Business start up grant is back with even more perks, and of course the 500 goodie bags."
You have until August 15 to apply for a spot in the craft bazaar or the runway… or take a look at some pictures from the last four years for inspiration!
On the Portland side of things, Carye Bye of Red Bat Press is leading her latest Small Museums by Bike Tour tomorrow. It sounds like a lot of fun…

postcard by Carye Bye
Carye says, "This tour will visit book arts shows at the Central Library & the New American Art Union. Also we'll have a DIY workshop at the Independent Publishing Resource Center learning simple book-binding and a chance to pull a print on the letterpress."
Book Arts & Fine Press Bike Ride in the SW Park Blocks – meet at the North End at Salmon & Park, Portland, Oregon
12:45 pm (3.5 – 4 hour bike tour), Saturday, May 26
Carye's past tours have included stops at the Cal Skate Museum, Velveteria, and the Contemporary Crafts Museum. Stop by her website and jump on her mailing list if you want to join in the bike tours!
I went to the Cool Cottons sale today and scored some nice prints from the sale room… don't miss it! I got enough fabric to make two dresses, one in a Mendhi pattern from FunQuilts (this one, actually), and one yellow-and-gray flower print from King's Road, both on sale, and a half-yard of Katie Jump Rope just because. I can't wait to sew with them!
But another of my favorite Portland shops is having a sale this weekend, too… have you been to Office on Alberta?

Like Cool Cottons, they're making room for some new stuff: their finds at the New York Stationary Show last weekend. Exciting!