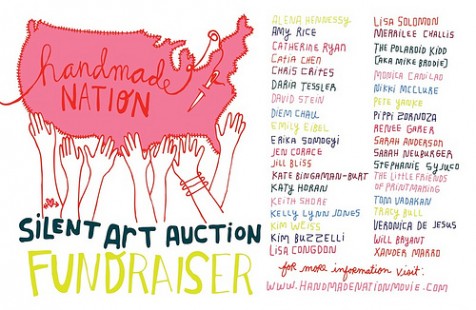 Handmade Nation silent art auction in LA
I wish so much that I could be in LA this weekend to go to the Handmade Nation screening and fundraiser party — if you are in Southern California, don't miss it!
The evening sounds amazing: the first 50 auction guests will get fantastic crafty swag bags as they arrive. At 7:00, filmmaker Faythe Levine will screen a new 20-minute clip from the film, and at 7:30 the artwork bidding will begin. Get a sneak peek at the art up for grabs here (I have a few favorites picked already!) and find out more about the film here. There's also an excellent LA Times article on the project to check out if you're interested. Congratulations, Faythe!
Handmade Nation Silent Art Auction
Saturday, July 19 2008, 6-10pm
@ Poketo's studio
510 South Hewitt, #506 (fifth floor)
Los Angeles, CA
handmadenationmovie.com