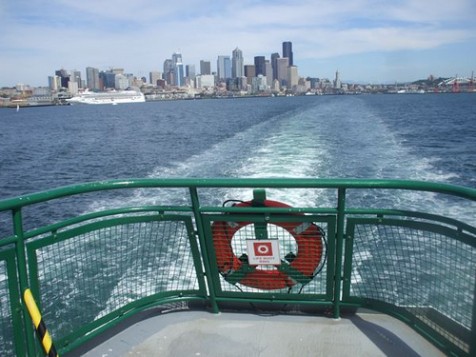 the end of another crafty era
Andrew was working on a project in Seattle all last week, so instead of flying down to the Golden State as planned, Pearl and I ended up heading up to the Evergreen State for a couple of days instead. We stayed right downtown, which was fun, and got to visit the market, the big awesome library, Uwajimaya (for browsing craft books and sharing a Beard Papa cream puff), numerous coffee shops, a couple of kid-friendly pizza places, and Szechuan Noodle Bowl (for green onion pancakes – delicious). Best of all, we took the ferry out to Bainbridge Island, which Pearl loved. It was a gorgeous sunny day and I took about a zillion photos, but here are my two favorites… leaving Seattle
and approaching Bainbridge… Mt. Ranier is really something on a clear day!
Meanwhile, Sunday was my last-ever CraftStylish post. As of yesterday, June 1, the site has been restructured pretty dramatically (which you can read more about here and here; update as of June 3, also here and here) and none of the dozen of us who were regular contributors are going to be weekly posters any more. But they're keeping the archive up, so while I'm sad to lose the freelance job and the chance to design projects over there, I'm really grateful that my work will still be out there — along with all the great projects I want to try from Kayte, Linda, Erika, Lee, Diane, Cal, Jennifer and Jeffery! I may do something else there occasionally later, but for now they're streamlining quite a bit, and Sunday's post is it for now. My project posts are all archived over here and I made a flickr set with some of my favorite project photos here, if you're interested.
So, here are my last two projects — I gave my jewelry-making heart free rein for these. First, I used some of the stellar Crafty Chica paints and imagery to make this simple decoupaged pendant and matching earrings. This is a sweet little project, very quick to do and fun to wear.
And then this week I wrapped things up with an Art Nouveau-inspired pendant using some of my all-time favorite bits and pieces: vintage beads, charms, and shrink plastic.
So, thanks so much to Michaela and everyone at CraftStylish for the chance to be part of it all this last year and a half!